Defined contribution default fund pension performance is back to normal in the year to 30 June 2023, with all schemes registering positive returns and those with heavier equity allocations performing best. 
While recent quarters have shown painful returns for bond-heavy defaults, as schemes got caught out by the speed of interest rate rises last autumn, providers' performance figures to June 2023 reflect a more typical spread between high equity strategies, which have performed very well, and more diversified approaches which have done less so.
Younger savers
The Corporate Adviser Pensions Average (CAPA) return for younger savers, those with 30 years to retirement, stood at 8.32% for the 12 months to the end of Q2, 2023, before charges are deducted. 
The Lewis Workplace Pension Trust, with its 100% equity strategy, saw the highest return over the period, at 13.13%. The MSCI World index grew over 11% over this period. However, its five-year annualised return stands at 6.24%, which is above the CAPA average of 5.96% but not as high as several other providers. Just behind The Lewis Workplace Pension Trust in the year to 30 June 2023 on 13.1% is the Aon MasterTrust, but its Managed Core Retirement Pathways now boasts a table-topping 10.0% annualised return over five years. 
LifeSight, Fidelity, Aegon, National Pension Trust, SEI, Options, Cheviot and TPT all delivered more than 10% over the year to Q2. 
The lowest performance came from LGIM's giant Multi Asset Fund, with a return of 1.82% before charges, dragging its five-year annualised return to 3.26%. 
Second from the bottom was Now: Pensions, at 2.55% before charges, which also has the lowest annualised return over five years at 2.57%. 
Royal London's Balanced Lifestyle Strategy (Drawdown) achieved a return of 3.69% in the year to June 2023, although its five-year annualised return was 5.01%.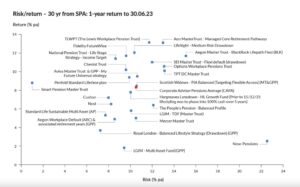 At-retirement returns
The spread of performance for savers one day before state pension age was relatively narrow, returning closer to the slow  and steady returns expected  of derisked portfolios that  derisking is designed to deliver. Three providers – Aegon Master Trust, Royal London and The People's Pension – strayed into negative territory, although only just so, with none more than 0.63% under water in the year to 30 June 2023. 
The highest performer over the period was Penfold, a new entrant to the CAPA universe, with a 4.69% return from its BlackRock MyMap 4 holding for savers at that point in the saving journey.
The CAPA average for the 12 months to June 30, 2023 stood at 2.1%.
That 5.2% range of performance outcomes is in stark contrast to the situation nine months earlier, at the end of Q2 2022, when returns ranged from -16.2 for the Aegon Master Trust to a positive 0.68% from Creative Pension Trust, as schemes reeled from the impact of the Truss/Kwarteng Budget chaos and the subsequent hike in the government's cost of borrowing.